Members | Flat glass manufacturers
Glass for Europe brings together multinational firms and thousands of SMEs across Europe, to represent the whole building glass value-chain. It is composed of flat glass manufacturers, AGC Glass Europe, Guardian, NSG-Group and Saint-Gobain, and works in association with national partners gathering thousands of glass and glazing companies from all over Europe.
Based in Louvain-la-Neuve (Belgium), AGC Glass Europe produces, processes and distributes flat glass for the construction industry (external glazing and indoor decorative glass), the automotive industry (original and replacement glass) and solar applications. It has over 100 sites throughout Europe, from Spain to Russia, and employs around 16,500 employees. It is the European branch of AGC (Japan), the world's largest producer of flat glass.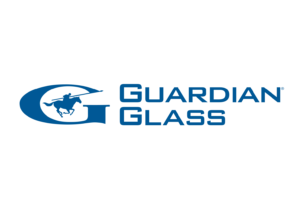 Guardian Glass produces float, high-performance glass and fabricated glass products for use in exterior (both commercial and residential) and interior architectural applications, as well as transportation and technical products. You'll find Guardian glass in homes, offices, cars and some of the world's most iconic architectural landmarks. We continuously work to create new glass products and solutions using the most advanced technology to help customers See what's possible®
The NSG Group operates in 49 float lines worldwide and is one of the world's largest manufacturers of glass and glazing products for the construction and automotive industries and the technical glass sector. The Group's Pilkington brand is synonymous with manufacturing excellence and technological innovation.
Saint-Gobain's Flat Glass Sector produces, processes and supplies flat glass for the habitat and construction, automotive and transportation markets. Saint-Gobain proposes high-performance glass solutions providing energy efficiency, security and safety, design and comfort, and tailor-made services, to its customers.
The Association of Glass Nordic (AGN) was launched in 2021 to officialise a long-lasting cooperation of glass and glazing associations active in the European Nordic countries, namely Denmark, Norway, Sweden and Finland. The association aims at becoming the voice of the glass and glazing sector in the Nordic region.
ASSOVETRO, the Italian Glass Manufacturers Association, constituted in 1947 and based in Rome, is the general official body representative of 80 companies working in the field of glass production and transformation. These companies are associated in different sectors, according to their production or activity.
Bundesverband Flachglas BF – the Federal Flat Glass Association – has more than 110 member companies with over 220 production facilities and 50 supporting members. Based in Troisdorf, it deals with issues related to Standardization and Technology, Political Representation of Interests, PR and Marketing.
The Federal Association of the German Glass Industry is their mouthpiece of glass manufacturing enterprises in Germany. As central organisation for the German glass industry, it represents the environmental, economic and energy policy interests of around 80 percent of German glass manufacturing companies.
The UDTVP (Union des Transformateurs de Verre Plat) is the French association of flat glass transformers and processors. It is part of the umbrella organisation FFPV (Fédération Française des Professionnels du Verre) which brings together the manufacturing and construction sectors.
FIV/VGI represents enterprises involved in the manufacturing, processing or shaping of glass products. Its main aim is to promote and protect the interests of the glass industry. The Federation performs a variety of tasks – including negotiations, representation, monitoring and analysis.
Glas Branche Organisatie GBO is the Dutch association of companies operating in the production, marketing, processing and installation of flat glass. Based in Zoetermeer (Netherlands), Glas Branche Organisatie GBO provide about 170 companies members with a variety of services and benefits.
The GGF represents UK companies involved in all aspects of the manufacture of flat glass and products and services for all types of glazing. Members of the GGF include companies that manufacture and install energy efficient windows, performance glass and the components that are used to manufacture every type of glazing.
Polish Glass Manufacturers' Federation represents the Polish glass industry since 2003. Poland is 3rd biggest float glass producer in Europe with yearly production of circa 1,5 million tonnes.